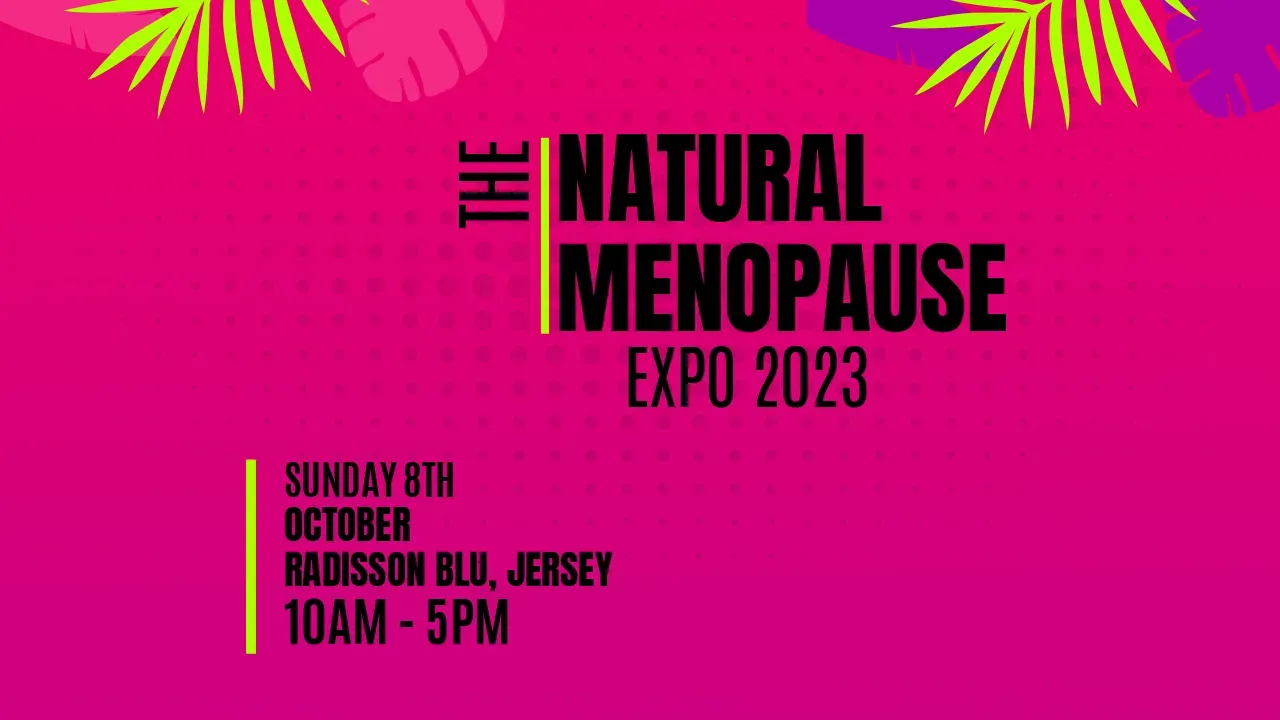 A Holistic Approach to Navigating Your Menopause Journey
Date: Sunday, 8th October
Venue: Radisson Blu, Jersey
Time: 10 AM - 5 PM
Entrance Price: FREE

The menopause is a significant milestone in a woman's life, often accompanied by various physical and emotional changes. For many women, this transition comes with symptoms that can affect quality of life.
The Natural Menopause Expo 2023 is designed to introduce women to natural remedies and lifestyle solutions that can make this journey more comfortable and empowering.
Why Natural Remedies and Lifestyle Solutions?
In a world often quick to prescribe medication, more women are seeking holistic, natural approaches. These methods aim to alleviate menopause symptoms while promoting overall well-being, without the risk of side effects commonly associated with hormonal treatments.
Click to See our Exhibitors
For Visitors:
Expert Insights: Attend workshops led by leading health professionals who specialise in natural menopause solutions.
Personalized Guidance: Receive tailored advice that respects your body's unique journey.
Natural Product Discoveries: Explore a diverse range of products, from herbal supplements to essential oils and nutritional guides.
Community Connection: Engage with a supportive community of women who share your experiences and aspirations.
Workshops: A series of workshops will be available throughout the day.
The Expo is FREE for visitors, please register below to attend:
Register to Attend (FREE)
Benefits for Exhibitors:
First Event of Its Kind in Jersey: Be a part of a groundbreaking event that addresses this significant stage in women's lives.
Highly Targeted Audience: Over 150+ attendees with a keen interest in natural remedies and solutions for menopause.
Product & Service Showcase: A unique platform to display and sell your products or services to a captive audience.
Extensive Local and Social Media Campaign: Benefit from a comprehensive marketing campaign that includes local media partnerships and widespread social media promotion.
Networking Opportunities: Connect with fellow exhibitors, industry experts, and potential customers to build lasting relationships.
Sponsorship Opportunities: Enhance your visibility further through various sponsorship packages.
Complimentary WiFi at the Venue: Stay connected without the hassle.
Customizable Exhibition Space: Design your booth to reflect your brand's essence with options for banners and specific setups.
If you'd like to be an Exhibitor at this first-of-a-kind event in Jersey, please click below to access the Exhibitor Pack:
Access the Exhibitor Pack
The Need for This Expo
Menopause is a natural phase, not a medical condition. Yet, for many women, navigating the accompanying changes feels like uncharted territory. This Expo is a response to the growing demand for:
Safe and Effective Alternatives: Learn about non-pharmaceutical options that are grounded in science and tradition.
Empowerment and Education: Gain the knowledge you need to become an active participant in your own health journey.
Holistic Wellness: Discover lifestyle strategies that encompass physical, emotional, and mental wellbeing during menopause.
The Natural Menopause Expo 2023 is more than an event; it's a movement towards embracing menopause as a phase of renewal, growth, and strength.
Join us on Sunday, 8th October, at the Radisson Blu, Jersey, and let's redefine the menopause journey together.
For more information, please contact [email protected].
Click to See our Exhibitors
OUR EVENT IS KINDLY SPONSORED BY
MEDICANN
Medicann is an award-winning clinic leading the way in the field of medicinal cannabis in Jersey, Guernsey and the Isle of Man.
As one of the most natural medicines in the world, Medicann is proud to be the official sponsor of The Natural Menopause event.
Our patient-centric approach starts with a one to one consultation with an experienced and specialist Doctor.
From hot flashes to weight gain, numerous research shows that medicinal cannabis can help to ease menopause symptoms.
Get expert help, and find out all you need to know about cannabis and the menopause by visiting the Medicann Wellness Lounge.
At Medicann, you matter.
Come and visit our stand at the Expo.
Visit our Website
nutrigums
Our purpose is to make high-quality, affordable, practical vitamins available to everyone. Many adults and children struggle with taking tablets, our fruit-flavoured gummy supplements are here to fix that issue.
Using the latest vitamin innovation and technology, our gummies are made using a fruit pectin base, derived from the pulp and skins of fruits and veggies. It gives our gummies their chewy texture and adds a natural sweetness.
We are so excited to share our sensational, game-changing multivitamin gummies with families across the world and look forward to surprising you with lots of new and tasty nutritional treats in the future.
So, get your taste buds ready because we've only just started.
Come and visit our stand at the Expo.
Visit our Website